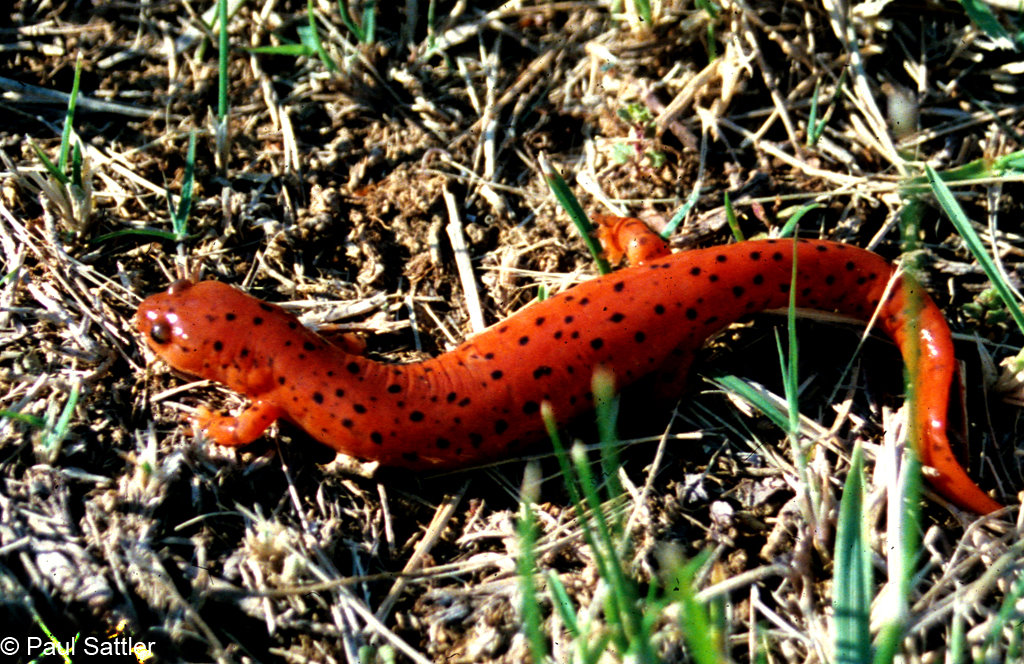 | | |
| --- | --- |
| Common Name: | Midland Mud Salamander |
| Scientific Name: | Pseudotriton montanus diastictus |
| Etymology: | |
| Genus: | pseudes is Greek for "false" and triton is the Greek sea god. |
| Species: | montanus is Latin meaning "belonging to a mountain". |
| Subspecies: | dia is Greek for "throughout", stiktos is Greek for "dotted". Referring to the distinct spotting on the dorsum. |
| Average Length: | 3 - 6.5 in. (7.5 - 16.5 cm) |
| Virginia Record Length: | |
| Record length: | 8.1 in. (20.7 cm) |
PHYSICAL DESCRIPTION: The ground color above is bright coral-pink to brilliant red. The dorsal dark spots are usually large, well separated, never reaching below the dorsal intersection of the legs. There are usually 17 costal grooves, occasionally 16. The length can be to 156 mm *1009*.
REPRODUCTION: Courtship is in the early fall, with spawning in December and hatching in February. The average clutch is 127 and they reproduce every other year but some require an additional year. The males mature at 3 years, and the females mature at 4 years *1014*.
BEHAVIOR: They occur in fine, black muck beneath logs and stones. This species burrows along the banks of seepages, springs, brooks, or swamps *1014*. They use caves and woods *1009*.
References for Life History
1009 Bishop, S.C., 1943, Handbook of Salamanders, 555 pgs., Comstock Publ. Co., New York, NY


1014 Martof, B.S., Palmer, W.M., Bailey, J.R., Harrison, III J.R., 1980, Amphibians and Reptiles of the Carolinas and Virginia, 264 pgs., UNC Press, Chapel Hill, NC
Photos:
*Click on a thumbnail for a larger version.

Lee Co.
Verified County/City Occurrence
Lee County
Pulaski County
Russell County
Scott County
Tazewell County
Washington County
Wythe County
Verified in 7 Counties/Cities.