History of Herpetology in Virginia
Founders of the Virginia Herpetological Society
W. Leslie Burger 1925-1988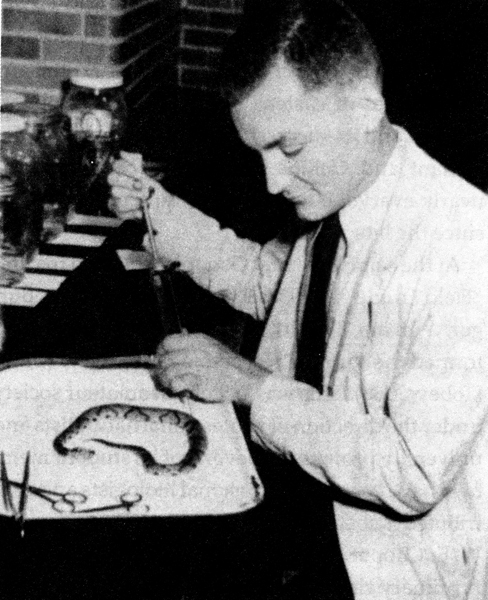 The contributions of W. Leslie Burger to Virginia herpetology are largely unrecognized because he published little of the research he performed there. He obtained his undergraduate degree from the University of Virginia in 1945, a Master's in Zoology from the University of Oklahoma in 1947, and a Ph.D. from the University of Kansas in 1971. Burger worked at the Virginia Fisheries Laboratory in 1956 (now the Virginia Institute of Marine Science) and subsequently taught at the College of William and Mary from 1957 to 1959. During that time he collected numerous specimens for a planned book on the distribution of Virginia's amphibians and reptiles. Burger brought Dunn's mimeographed 1936 checklist up to date and published it in 1958 (Burger, 1958). He began the first of several visits to far southwestern Virginia and Cumberland Gap in 1958, and teamed up with Roger de Rageot to work on a manuscript on the amphibians and reptiles of southeastern Virginia and northeastern North Carolina. Many of his collecting records, including county and state records, were posted on the Virginia Herpetological Society's distribution maps begun by William L. Witt. He moved to Indiana in the fall of 1959 but continued his field trips to several Virginia locations through 1961.
Source: Mitchell, Joseph C. 1994. The Reptiles of Virginia. Smithsonian Institution Press, Washington D.C. 352 pages.
---
Ollie King Goodwin 1921 - 2011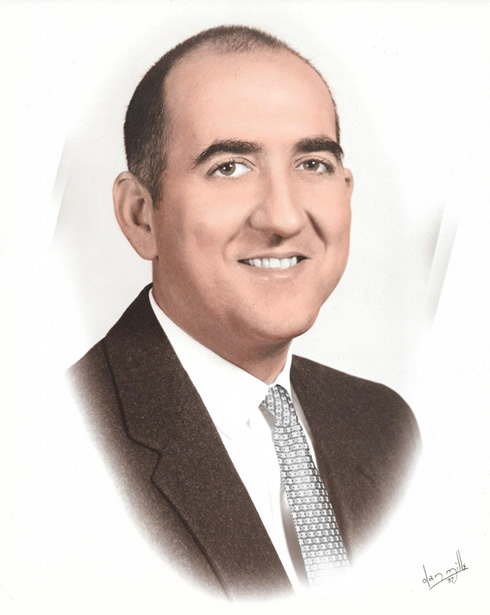 ​CATLETT - Ollie King Goodwin, 90, of Catlett, died Saturday, Dec. 3, 2011, at Fauquier Hospital surrounded by his family.
He was born Nov. 25, 1921, in Newport News, Va., to the late Joseph B. Goodwin and Elsie L. King Goodwin. In addition to his parents, he was preceded in death by his brothers, Joseph B. Goodwin II and Robert Lee Goodwin.
During World War II, he was a radio airman on a PBM. He attended the Apprentice School in Newport News and was employed by the Newport News Shipbuilding and Drydock Co., from 1939-1978, as a hull designer and as an instructor in hull design at the Apprentice School. He was awarded a patent on an anchor design. He organized the Sea Scouts for the Apprentice School and was also a Boy Scout and Explorer Scout leader.
Later, he was employed as an independent contractor in hull design at shipyards throughout the United States and Canada. He was co-founder of the Virginia Herpetological Society and founder of Coastal Canoeists. He served as Safety Chairman for the American Whitewater Association. He and his wife participated in numerous whitewater races, both slalom and wildwater (downriver). Along with his wife, Glenna, he was an ICF (International Canoe Federation) gate judge for whitewater canoeing competitions. In later years, he owned and operated World of Whitewater in Big Flat, Calif., a whitewater rafting and canoe/kayak school. He worked for several years as a substitute teacher for Fauquier County Schools and as a volunteer at many track and cross-country competitions.
O.K. is survived by his loving wife of 64 years, Glenna H. Goodwin; two daughters, Candace Goodwin Waits and husband, Benjamin of Newport News, Va., and Cindy Wall and husband, Ken of Catlett, Va.; five grandchildren, Jennifer Earnest, Robin Waits, Joshua Wall, Colleen Wall and Caitlyn Wall; and great-granddaughter, Alexa Earnest.
---
Roger H. de Rageot 1931 - 2006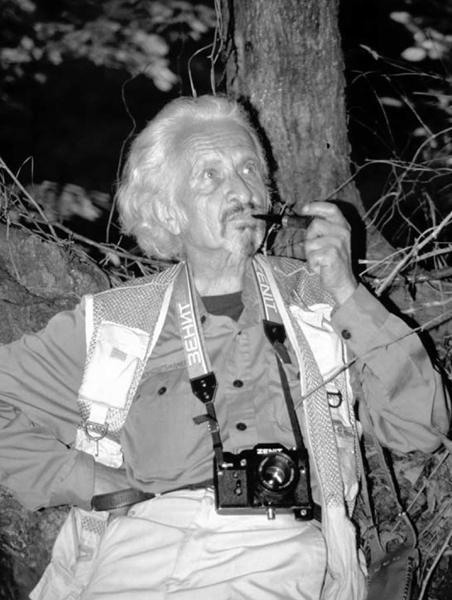 An article on Roger Henry (or Henri) de Rageot in the Virginian Pilot after his death noted that he never lived a normal life. That was an understatement. Roger was well known for his Spartan life in the Norfolk, Virginia, area where he lived most of his life after emigrating from Europe, and for his propensity to eat road kills and snakes. He was one of the old-time naturalists who was equally at home in the arts. Indeed, many of his writings were as much artistic flair as they were scientific papers. He has been called a naturalist, explorer, museum curator, photographer, painter, author, and eccentric. In fact, he was all of these things. Roger Rageot (Fig. 1) was born in France on 22 June 1931, and grew up in the Charolais cattle region. He endured the German occupation there during World War II and caught wild game for food. Roger and his sister emigrated and arrived in the United States by ship in 1947 to settle in Maryland. He finished high school at the Sacred Hearts High School in La Plata, Maryland, where he learned English. He took some zoology courses at Washington University during 1949- 1952 and at the College of William and Mary in 1952- 1956, but did not attain a college degree. He worked with the Smithsonian Institution mammal collection before moving to Virginia. He got the curator job at the Norfolk Museum of Natural History in 1951 and worked there until 1967. Roger attended Old Dominion College (now University) part-time between 1952 and 1956. He spent 1957-1958 in France where he obtained a degree in "License of Natural Science."
Roger was initially paid as a night watchman at the museum but worked on natural history exhibits during the day. He did his own taxidermy, collected his own specimens, built the dioramas, and educated the public through lectures to school groups and public speaking. He was an invited member of the American Association of Museums in 1954. Roger's home was a Norfolk apartment in Gent where he kept several animals, including an adult Gila Monster (Heloderma suspectum) given to him by Howard K. Gloyd.
Funding was tight at the museum and Roger supplemented his income by collecting specimens of all sorts for profit by selling them to researchers and museums. Numerous specimen labels on snails, insects, millipedes, birds, bats, other mammals, fish, and of course amphibians and reptiles remain extant in several museums. He also sent specimens free to researchers like Howard K. Gloyd who was studying copperheads and cottonmouths and Roger Conant who was studying watersnakes. And, of course, he supplemented his diet with road kills and the occasional Snapping Turtle (Chelydra serpentina). Roger applied to other museums throughout the country in 1956 and 1962 to apparently gain better wages and even received an offer or two, turning them down to stay in Tidewater.
Roger created watercolor paintings that ultimately sold for hundreds of dollars. Some of his pen-and-ink illustrations appeared on the cover and in the Art Feature of the Philadelphia Herpetological Society (PHS) Bulletin in 1963 and in Virginia Wildlife in 1964. The PHS Bulletin cover illustration of a Green Treefrog (Hyla cinerea) is reprinted as Fig. 3, and a Diamond-backed Terrapin (Malaclemys terrapin) drawing as Fig. 4. Photos of a Canada Warbler (Wilsonia canadensis), Whitetail Deer fawn (Odocoileus virginianus), Copperhead (Agkistrodon contortrix), and thorn bugs were published recently in The Nature Handbook by E. H. Williams, Jr. (Oxford University Press, 2005).
Unfortunately, in 1967 the museum's board did away with the natural history section and made it into an exclusively art museum. There was a big public outcry but the natural history museum and Roger were history. Roger then took whatever inheritance he had, bought a Toyota Land Cruiser and lots of supplies, and wandered throughout much of Central and South America for two years. He traveled, usually alone, through most of the countries in Central America, being robbed in British Honduras along the way. His first destination was French Guiana for which he carried a letter of introduction from the Secretary of the Smithsonian, S. Dillon Ripley. The Smithsonian Institution provided collecting supplies so that Roger could collect specimens in remote places. He was back in the United States in 1971 seeking funding for another tropical expedition.
His 1973 Peace Corps year was spent in Chile where he taught and worked on seeking ways to control Vampire Bat predation on cattle. He and a colleague ingeniously mixed a poison with petroleum jelly to apply to the bats' backs. They would fly back to their roosts and groom each other, infecting as many as 50 others. It was very effective. Roger remained in South America until 1980. He apparently contracted Hodgkin's disease later that year and came back to the United States to be treated successfully. He was not considered in remission until 1984 when he returned to Norfolk for semi-retirement. Roger remained active in local natural history excursions and occasionally spent time in Ecuador until he was too frail and weak to travel again. His cancer apparently came back in 2006 and he died from that and respiratory disease on 7 October 2006.
Roger Rageot was a co-founder of the Virginia Herpetological Society and its third president (1963- 64). He contributed several articles, especially one on the amphibians and reptiles of Surry County (Rageot, 1965). He worked as the naturalist and director for several summers at the Pipsico Boy Scout Reservation and reported valuable natural history observations on the county's herpetofauna. He later (Rageot, 1969) reported on three rare species from Surry County – Oak Toad (Bufo quercicus), Barking Treefrog (Hyla gratiosa), and Eastern Spadefoot (Scaphiopus holbrookii). Roger also provided confirmation, a shell, of the state endangered Chicken Turtle (Deirochelys reticularia) in Virginia at Seashore State Park (now First Landing State Park) (Rageot, 1968).
Roger's first love in Virginia was the Great Dismal Swamp. During his 16-yr period with the Norfolk Museum, he spent many, many nights in the swamp with only a few blankets, sandwiches, and a few tins of food. He took notes on everything, not just amphibians and reptiles. His collections of animals ended up as stuffed display specimens in the museum's dioramas, scientific specimens in herpetological collections such as the Smithsonian Institution and other museums, and live animals in exhibits. His fieldwork in the Swamp was supported by small grants from the Virginia Academy of Science in 1953 and 1957.
Around 1960 Roger wrote a large manuscript based on his excursions and natural history observations in the Great Dismal Swamp in Virginia and North Carolina. He tried to get it published by as many as 10 book publishers but was apparently unable to make it happen. It was accompanied by 85 pen and ink drawings. Some of these drawings cannot now be located but some of those available are published in the following manuscript. Roger loved the Dismal Swamp. His attraction to it was not only scientific but also spiritual and literary. He gained his inner strength just being there and being one with the swamp ecosystem.
Roger also wrote several very different articles and papers, from magazine articles on the supernatural to scientific papers on natural history. Although he had some training as a scientist, his approach to life and natural history was artistic. He saw and felt art in nature and some of his writing reflected this inner connection. All of the papers known to us are listed in the bibliography. It is not an extensive list, but it is quite varied and broad in scope. "The Apparition," a story in a 1963 issue of Fate Magazine (but not located by us), devoted to tales of the supernatural and unexplained, was part of a series of stories that Roger grouped into a collection called "Rageot's Horrors." We have unfortunately been unable to find this collection.
During his tenure in Norfolk while at the museum and in later years after returning from the tropics, Roger appeared in numerous newspaper articles throughout the Tidewater area. He became something of a noted naturalist and was sought after for identification on many types of animals, fossils, and even some invertebrates. His eccentricities, like eating road kills and spending long periods of time in the Dismal Swamp by himself, were extolled in complimentary fashion by at least two reporters late in life. And the announcement of his death was covered by one of them with a sort of reverence for his gifts to Tidewater natural history, education, and his unusual life style.
The late Joseph Campbell, noted philosopher and professor of comparative mythology, extolled the virtues and value of making one's way in life. "Follow your bliss" is his most well-known phrase. Roger Rageot followed his bliss. He did what was right for him. And he did not care what other people thought about him. In the process, he gave far more than he received and he gave it with grace, humility, and dignity. He was fond of saying that he was a French count by heredity, a distinction disputed by his sister. But even if he was not really of royal descent, he surely acted that way. Virginia's natural history, especially herpetology, benefited from his service in the defunct Norfolk Museum of Natural History, public education, and his portrayal and love of the Great Dismal Swamp.
Papers and Articles Written by Roger H. de Rageot:
Old, W. E., Jr., & R. H. Rageot. 1956. Land snails of Nansemond, Norfolk, and Princess Anne counties, Virginia. Virginia Journal of Science 7: 87-90.
Rageot, R. H. 1955. A new northernmost record of the yellow bat, Dasypterus floridanus. Journal of Mammalogy 56: 456.
Rageot, R. H. 1957. Predation on small mammals in the Dismal Swamp, Virginia. Journal of Mammalogy 38: 281.
Rageot, R. H. 1959. Awakening of the swampland. Virginia Herpetological Society Bulletin 10: 2.
Rageot, R. H. 1963. Locket from the dead. Fate Magazine 16 (November): 48-51.
Rageot, R. H. 1963. Message to VHS members from the society's president. Virginia Herpetological Society Bulletin 35: 3.
Rageot, R. H. 1964. The golden mouse. Virginia Wildlife 25 (February): 10-11.
Rageot, R. H. 1964. The strange semi-tropical world of the salamanders. Virginia Wildlife 25 (April): 12, 17-18.
Rageot, R. H. 1964. Herpetofauna of Surry County, Virginia. Virginia Herpetological Society Bulletin 40: 3-6.
Rageot, R. H. 1965. The golden mouse. Defenders of Wildlife News (January): 58-59.
Rageot, R. H. 1965. An introduction to the Great Dismal Swamp. Wildlife in North Carolina (May): 7-9, 23.
Rageot, R. H. 1967. I seek the shadow of my love. Fate Magazine 20 (July): 42-50.
Rageot, R. H. 1968. The occurrence of the eastern chicken turtle in southeastern Virginia. Virginia Herpetological Society Bulletin 57: 2.
Rageot, R. H. 1969. Observations regarding three rare amphibians in Surry Co. Virginia Herpetological Society Bulletin 63: 3-5.
Rageot, R. H. 1992. Observations on the mammals of Mackay Island National Wildlife Refuge, Virginia and North Carolina. Banisteria 1: 11-13.
Rageot, R. H. 1992. Notes on the swampfish (Chologaster cornuta Agassiz) in the Dismal Swamp of Virginia. Banisteria 1: 17-18.
Wood, J. T., F. G. Cary, & R. H. Rageot. 1955. The nesting and eggs of the dusky salamander, Desmognathus fuscus Raf. in southeastern Virginia. Virginia Journal of Science 6: 149- 152.
Wood, J. T., & R. H. Rageot. 1955. Eggs of the slimy salamander in Isle of Wight County, Virginia. Virginia Journal of Science 6: 85-87.
Wood, J. T., & R. H. Rageot. 1963. The nesting of the many- lined salamander in the Dismal Swamp. Virginia Journal of Science 13: 121-125.
Source: Banisteria 29 - Journal of the Virginia Natural History Society
---
Franklin J. Tobey, Jr. 1919 - 2010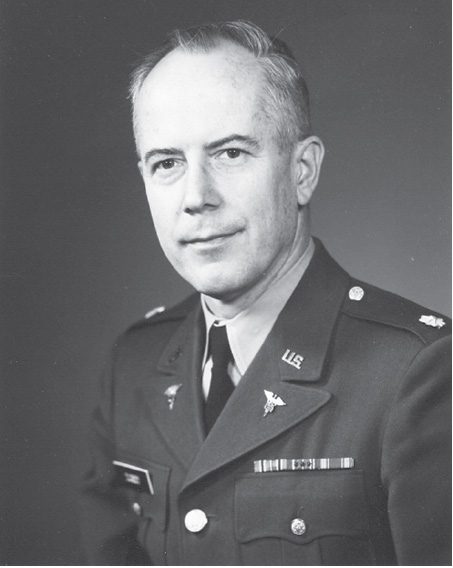 Franklin J. Tobey, Jr. as a U.S. Army reservist in 1969. Photo provided to JCM by Frank Tobey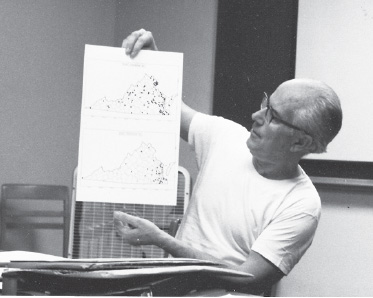 Frank Tobey showing the page proofs of the Virginia herp
distribution maps at a VHS meeting at the University of Richmond in
1982. Photo by JCM.
Obituary Franklin J. Tobey, Jr. (1919-2010)
Joseph C. Mitchell
Mitchell Ecological Research Service, LLC
P.O. Box 5638 Gainesville, Florida 32627
Numerous amateur naturalists who have a paying job doing one thing but spend their free time devoted to a field of science have made substantial and sometimes significant contributions. One such person was Franklin J. (Frank) Tobey, Jr. He was an amateur naturalist interested in the communication of science to the public. He contributed much to herpetology, in this case to the herpetology of Virginia.
I first met Frank at a Virginia Herpetological Society (VHS) meeting at Camp Shawondasee in Chesterfield County in the fall of 1962. This was my first VHS meeting at age 14. The VHS officers made me feel welcome despite my age. Frank and the other society officers were devoted to Virginia's amphibians and reptiles and sought to keep it state-focused, despite some pressure to add exotics to society activities. Frank and the others, including my uncle Costello Craig, helped me to see that they were doing science by adding knowledge to our understanding of this group of animals. I credit Frank, Cos, and the VHS at that time for planting the seed that later caused me to become a professional scientist. I also credit these persons for making sure that including young people has always been a large part of how the VHS operates.
The VHS originated in the mind of Frank Tobey. As a high school student in New Jersey, Frank helped amass distribution records for the snakes of that state (Trapido, 1937). With that background, he saw the need for such herpetological information when he came to Virginia. In 1957, he wrote an article on snakes for Virginia Wildlife (Tobey, 1957) and asked if there were people who might be interested in forming a group. He and the original officers determined that their first focus would be on gathering locality information to generate distribution maps. He found like-minded friends, particularly W.L. Witt, another amateur, and started to accumulate reliable information on the distribution of amphibians and reptiles in the Commonwealth. The only checklist of species with locality information (e.g., counties) available on this topic was E.R. Dunn's (1936) checklist with county notations. These first VHS officers also consulted scientific papers written by others such as R.L. Hoffman (e.g., Hoffman 1944, 1945a, b, 1953), to obtain geographic location information. Frank was the repository of the society's distribution records derived from the Smithsonian Institution's Division of Amphibians and Reptiles, other museums, the literature, and viable reports from citizens. His goal was to produce, through the VHS, a book with detailed distribution maps for all of Virginia's native species.  It was to be a long-term project that finally came to fruition in 1985 (Tobey, 1985). Frank Tobey was a prominent figure in the VHS during its first 21 years of existence, and during lean times he WAS the VHS.
Frank and the co-founders of the VHS (W.L. Burger, O.K. Goodwin, R.H. deRageot, W.L. Witt, J.T. Wood) met at Camp Shawondasee on 18 October 1958 to officially inaugurate the society. Frank, having been a reporter and associate editor of a Washington, D.C. magazine, became the Secretary and newsletter editor. He wrote, printed, and distributed a total of 90 issues of the VHS Bulletin between 1958 and 1979, sometimes mailing as many as 300 copies of each issue. Although there were articles written by members, much of the information he wrote himself based on correspondence and notes from members. The journal Catesbeiana took the place of the VHS Bulletin a year after the last bulletin appeared (1979). Frank also organized many of the early VHS meetings, including those at the National Zoo in Washington.
Franklin Joseph Tobey, Jr. was born on 22 February 1919. He grew up in Newark, New Jersey, where he was a member of the Newark Museum's Natural Science Club from 1933 to 1938, when he graduated from high school. He was an Eagle Scout and assisted the camp doctor at BSA Camp Mohican for many years. He enrolled in Seton Hall University in Newark but transferred to Columbia College in New York, graduating in 1942 as a dual zoology and political science major. He was inducted into the U.S. Army on 10 June 1942 where he was trained at Camp (now Fort) Pickett, Virginia, as a motor transport officer in the Medical Corps. He was commissioned a Lieutenant after additional training at the Army Medical Field Service School in Carlisle, Pennsylvania, in 1943. He served in Ardennes, the Rhineland, and central Germany during World War II. He assisted in the return home of Allied Forces who had been in German Prisoner of War Camps. Soon after returning to the United States in early 1946, he married Carolyn Wiederspahn in June of that year. He graduated with a Master of Arts in Economics from Columbia College in 1947 and a year later settled in Oakton, Fairfax County, Virginia. He also lived in Maryland for a few years while still running the VHS before his move to a stone house on a ridge near Purcellville in Loudoun County. They had two daughters, Carolyn Tobey Berardesco and Alix Tobey Southwick, and one son, Franklin Joseph Tobey III. Joe played bagpipes at dawn at some of the field-oriented meetings in the early 1960s, sometimes to the ire of some participants. Frank had six grandchildren and six great grandchildren. Until 1959, Frank was a reporter and editor for the Public Utilities Fortnightly magazine but that year he was invited to join the U.S. Atomic Energy Commission as a media consultant and liaison with the U.S. Public Health Service. He remained in the U.S. Army Reserve until he retired as a Lieutenant Colonel in February 1969 (Figure 1). Frank was always proud of his years in Europe and especially Germany.  He knew German well and always signed himself "Franz Josef" in letters to Richard Hoffman. Frank continued to produce the VHS Bulletin for ten years after retiring. In reviewing specimen lists for the distribution maps (Tobey, 1985), he discovered that a Six-lined Racerunner (Aspidoscelis sexlineata) housed in the Museum of Comparative Zoology, Harvard University, had been collected in the Civil War during the Seven Days Battle in Hanover County in 1862. He tracked down the collector's name, which turned out to be Union General George G. Meade, or one of his staff. The specimen was sent to secure the attention of a Harvard scientist who Meade wanted on his staff.  Frank's interests in history and herpetology combined to produce his article in the Civil War Times Illustrated (Tobey, 1991) that described this historical connection. Frank also contributed to the first effort to evaluate all of Virginia's threatened and endangered plants and animals by editing and writing some of the species accounts on amphibians and reptiles for the first book on the topic (Linzey, 1979; Tobey, 1979). Upon retirement, Frank's long-time interest in geology and minerals led him to become active in amateur geology clubs (Franklin-Ogdensburg Mineralogical Society and the Mineral Club of Lower Bucks County, NJ) where he contributed articles to their newsletter. He wrote his memoirs of his experiences in World War II. He still contributed articles for Catesbeiana (Tobey, 1988, 1989a, b, 2008). In 1998, the VHS awarded Frank Tobey its first Lifetime Achievement Award during the society's 40th anniversary meeting in honor of his outstanding contributions to Virginia herpetology and the VHS. This award was established to recognize members who have made important contributions to Virginia's herpetofauna and exhibited a positive image that reflects the values of the VHS.
Frank Tobey (d. 6 May 2010) will be remembered primarily as the person who almost single-handedly kept the VHS alive for over 20 years. Many VHS members who knew him will remember his kindness and gentle prodding to gather distributional data. His dedication to Virginia herpetology as an amateur naturalist is unmatched. He influenced numerous young people through the Bulletin, correspondence, and interactions at VHS meetings, including me. Virginia herpetology will forever be grateful to this amateur naturalist from New Jersey. His dedication to science shows what can be done by amateur naturalists if one stays focused. Such a life dedicated to a worthy cause would well be emulated by others seeking to make a difference.
I remember Frank for his warm and enthusiastic support of all the members who showed up for the meetings, except for the very few who were noisy and distracting. Even then he was the consummate diplomat, although he would tell some of us in private what he really thought. He was, after all, a military officer and acted much in that dignified manner. He was dedicated to the survey and followed up on each and every specimen location he knew about, and in those days it was all by letter. He told me that everything he learned about Virginia herpetology back then he put into the VHS Bulletin. Being a reporter, he of course put this material in more of a news format than a scientific format. I became less than enthusiastic about this approach around 1980 and when Frank said that number 90 of the Bulletin was his last, I advocated that the VHS start a new journal in a more scientific style. Richard Hoffman suggested the name Catesbeiana. Frank was not exactly pleased to see this turn of events but, nevertheless, as always, he remained a cordial and supportive friend and colleague. He could see that the VHS needed to grow in another direction and he graciously stepped aside to let us younger upstarts take over.
The set of distribution maps (Figure 2; Tobey, 1985) is a monument to his tenacity and love of Virginia herpetology. The meticulous records he kept on each specimen location are now protected for posterity in the VHS archives. Perusal of these documents shows that Frank was as honest and professional as any professional scientist. Virginia herpetology owes a great debt of gratitude to Frank for creating the first set of distribution maps for these two groups of vertebrates.Everything we have done and will do relative to the distributional biology of Virginia's amphibians and reptiles is and will be built on Frank's shoulders.
How can we thank Frank Tobey for his dedication to Virginia herpetology and the VHS? We can continue to recognize him as the pivotal person who helped to make us what we are. We can continue to focus solely on Virginia's amphibians and reptiles. And we can continue to be as honest and professional as we can possibly be in our endeavors to move the science of Virginia herpetology into the next decades of its existence. I am proud to say that the VHS has continued to carry Frank Tobey's legacy forward and expanded it into the broadly, but still Virginia-focused society that we are.  We will continue to be a strong society if we do not forget our roots. And the tap root of the VHS must certainly be Franklin J. Tobey, Jr.
Acknowledgments – I thank Steve Roble and Susan Walls for critiquing earlier drafts of this obituary. Richard Hoffman provided the line about Frank's love of Germany. Janet Roetkin of the Virginia Museum of Natural History sent me a copy of a letter sent to Hoffman by Alix T. Southwick following Frank's passing. I thank Frank Tobey personally for his support of my long-term interests in Virginia herpetology and for his support of me personally.
Literature Cited
Dunn, E.R. 1936. List of Virginia amphibians and reptiles. Haverford College, Haverford, PA. Mimeographed, 5 pp. (copy in the Division of Amphibians and Reptiles, Smithsonian Institution)
Hoffman, R.L. 1944. Eumeces anthracinus (Baird) in Virginia. Proceedings of the Biological Society of Washington 57:122-124.
Hoffman, R.L. 1945a. Range extension for Eumeces inexpectatus Taylor. Proceedings of the Biological Society of Washington 58:131-132.
Hoffman, R.L. 1945b. Notes on the herpetological fauna of Alleghany County, Virginia. Herpetologica 2:199-205.
Hoffman, R.L. 1953. Interesting herpsian records from Camp Pickett, Virginia. Herpetologica 8:171-174.
Linzey, D.W. 1979. Endangered and Threatened Plants and Animals of Virginia. Virginia Polytechnic Institute and State University, Blacksburg,  VA. 665 pp.
Tobey, F.J., Jr. 1957. Harmless -and often helpful- snakes. Virginia Wildlife 18:8-9, 24.
Tobey, F.J., Jr. 1979. Amphibians and reptiles. Pp. 375-414 In D.W. Linzey (ed.), Endangered and Threatened Plants and Animals of Virginia. Virginia Polytechnic Institute and State University, Blacksburg, VA.
Tobey, F.J., Jr. 1985. Virginia's Amphibians and Reptiles, a Distributional Survey. Privately published by the Virginia     Herpetological Survey, Purcellville, VA. 114 pp.
Tobey, F.J., Jr. 1988. VHS celebrates its thirtieth anniversary. Catesbeiana 8:21-26.
Tobey, F.J., Jr. 1989a. Field notes: Coluber constrictor constrictor. Catesbeiana 9:35.
Tobey, F.J., Jr. 1989b. Field notes: Chelydra serpentina serpentina. Catesbeiana 9:35.
Tobey, F.J., Jr. 1991. The mystery of Harvard's Civil War lizard resolved. Civil War Times Illustrated (Jan/Feb):24-26.
Tobey, F.J., Jr. 2008. Virginia Herpetological Society 1958-2008. Catesbeiana 28:57-60.
Trapido, H. 1937. A guide to the snakes of New Jersey. Newark Museum, Newark, NJ. 60 pp.
Figure 1. Franklin J. Tobey, Jr. as a U.S. Army reservist in 1969. Photo provided to JCM by Frank Tobey.
Figure 2. Frank Tobey showing the page proofs of the Virginia herp distribution maps at a VHS meeting at the University of Richmond in 1982. Photo by JCM.

---
William L. Witt 19?? - ????
John Thornton Wood 1919-1990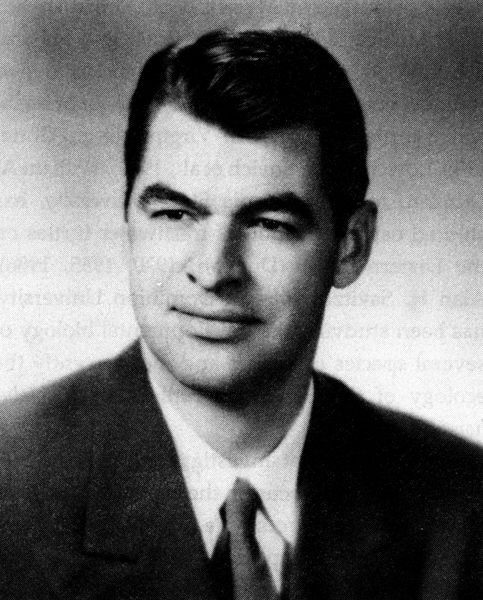 John Thornton Wood obtained a Master's Degree in Biology from the College of William and Mary, where he studied the nesting ecology of the four-toed salamander (Hemidactylium scutatum). His contributions to the reptilian literature were on meristic variation in a litter of garter snakes (Thamnophis sirtalis) (Wood and Wilkinson, 1952), turtle behavior (Wood, 1953; Wood and Goodwin, 1954), patterns of snakebite (Wood, 1954b), and the distribution of Virginia's venomous snakes (Wood, 1954a; Goodwin and Wood, 1956). He contributed many locality records of venomous snakes to the maps maintained by the Virginia Herpetological Society. He unfortunately (for herpetology) was convinced that more money was to be made as a physician and attended the University of Virginia Medical School, graduating with his M.D. in 1955. He published several other papers on herpetology, largely on amphibians, but moved to Michigan in 1960 to become a psychiatrist. He eventually practiced in Vancouver, British Columbia.
Source: Mitchell, Joseph C. 1994. The Reptiles of Virginia. Smithsonian Institution Press, Washington D.C. 352 pages.